Summary: Are you finding the best way to send email from different address in Outlook? Then this post is a good fit for you. There are various methods to send emails with different addresses, but we will discuss the best approach.
We all know many businesses use multiple email accounts to send emails to users for various reasons, such as for sales, marketing, and customer service. Answering these inquiries can be challenging because each email address is used for different purposes.
Here, Outlook provides the features to the users that they can send emails from different addresses. First, you need to set up an Outlook account and use an alias as the primary sender. If your Outlook account is already set up, you can use the first method to send an email.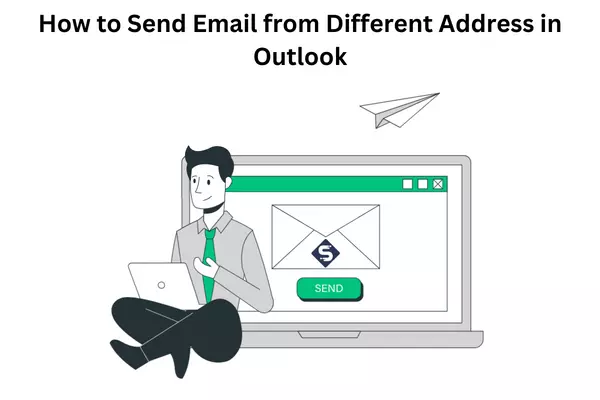 How to Send Email with Different Sender Name
It is the best way to send emails using different sender names. One way is to use the Outlook application to pick another email account. Another way is to open an existing account, and Outlook send email from different address using the From field.
Start with a new email, forward or reply message in Outlook.
Visit the message header and choose From option.
Pick the Other Email Address option.
Under the From field, type the email account you'd like to show up in the From field.
Select the OK button.
Now, Compose the message and hit the send button.
Note: If Outlook from field missing, then enable the Outlook from field option while performing the steps. It allows you to send email from different address in Outlook. If you want to know about how to block emails on Outlook you can read this post.
How to Forward Emails From Another Account in Outlook
Select the Settings (gear icon).
Click on the View all Outlook settings option.
Pick the Mail and then select the Forwarding option under the settings.
Now, tick the checkbox of Enable forwarding.
Enter the email address you want to send to another account.
If you want to keep copies of forwarded email messages in Outlook, check the Keep a copy of forwarded messages.
Hit on the Save button.
If you're looking for a step-by-step guide to remove Outlook primary account, check out our detailed blog post on streamlining your email management.
Related Post: Send a Calendar Invite in Outlook
How to Change Default from Address Outlook Shared Mailbox
The only way to do this is to add your shared mailbox as mailbox to your account. If you give permission to your shared mailbox, it will be implemented even if it's automatically mapped (for example, automatically added to your profile). So if you add it to your profile, you can eventually remove it or turn it off automapping. To avoid these problems, create a new profile instead for the shared mailbox.
Launch the Outlook application.
Now, Click on the File menu, then on Account Settings.
Pick the Change Profile option.
Here, Outlook will automatically close. Now restart the Outlook application.
Type the Profile Name and click on the New button.
Enter the Shared mailbox email address in the field.
Press on the Connect button.
When the Enter password window opens, click the Sign in with another account link.
Enter the email address and click on the Next button.
Now type the password, then Click on the Sign in option.
Open Outlook and use this profile.
Note: Some users ask me how to change default sending email address in Outlook 2016. This method also works for this query. And allow you to send email from different address in Outlook. However, some users find the best way to send encrypted email in Outlook. If you are one of them, you can read this post.
Conclusion
Finally, the post goes through the way of send email from different address in Outlook. However, we discussed three workable solutions to solve your problem with send from different email address Outlook. If you're concerned about security, it's time to revoke easy access to Outlook.